FACTS – Objective Determination of Fatigue
FACTS is an expert web-based system that will let you know the probability of whether a person was or was not impaired by fatigue at the time of an accident or incident.
FACTS is:
Objective – Creates a standard for investigating all incidents, accidents and near misses.
Scientifically validated – FACTS probability judgments correlate 86% with the judgments of expert human panels.
Easy to use – No training required. Features a simple drop-down menu for collecting the incident data as part of the normal accident reporting process
Fatigue Risk Management System Tool – In a data-driven FRMS, FACTS allows an organization to assess, benchmark and measure the impact of their FRMS initiatives in terms of reduced costs, risks and liabilities.

How to use FACTS: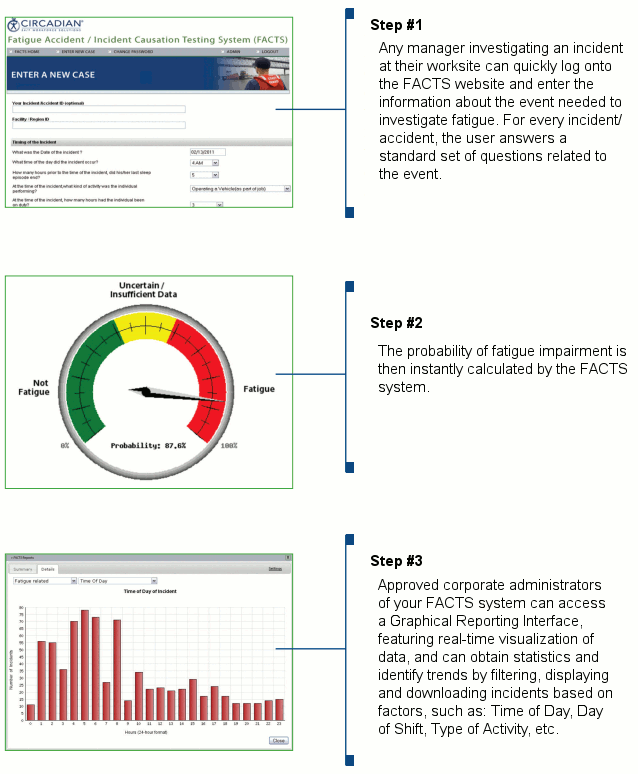 A FACTS™ license can allow your business to:
Keep track of all incidents/accidents/procedural deviations across multiple corporate worksites
Analyze each for fatigue causation probability by using the scientifically-validated expert FACTS™ system.
Store all your corporate FACTS inputs and results in a database.
Analyze and track your fatigue-related incidents/accidents
Brand FACTS™ with your own logo and color design
Customize FACTS™ questions to the specific language, technical terms accepted practices of your company and your industry
To learn more:
Sign up for a free 5-case trial
Contact us by calling 800-284-5001, emailing info@circadian.com, or filling out our Contact Form.